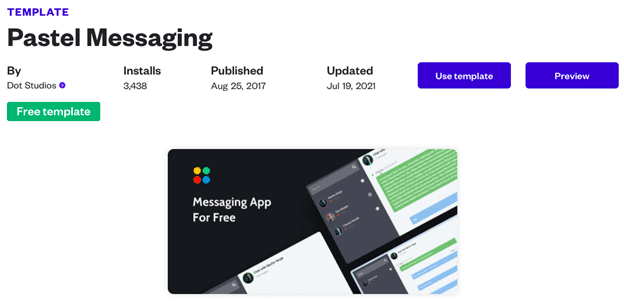 The no-code space can be overwhelming.
We know that it allows non-technical users to thrive and build apps on their own, but until we become citizen developers ourselves, the concept of developing programs without having to code will be but a dream.
If you're new to the world of visual programming, welcome!
Millions of entrepreneurs and brands worldwide have now made the most of what this technology can do, and like them, you too can enjoy the many perks their enterprises do.
Like other leading no-code platforms, Bubble gives its thousands of users the option to optimize functional templates, and hopefully turn them into dynamic applications.
For this article, we're jotting down all the best Bubble templates anyone can use today.
It doesn't matter if you're a business leader, an independent creative, or an employee—Bubble is a fantastic platform that can turn anyone into trailblazing visionaries that can realize both big dreams and utilitarian solutions.
Are you ready? Let's start!
The Best Bubble Templates of 2021
As the name of the template implies, EZ Dashboard is best for anyone looking to make responsive web apps that house graphs, forms, and simple tabs. Designed for employee-facing programs, this template easily supports any citizen developer exploring customized program solutions for their teams and workforces.
If you want to build a stronger project management software for your organization, you can start with this template.
Need we say more? This Bubble template is a terrific start for those wanting to create messaging apps on their own. Whether out of pure curiosity or with the intention to make the next WhatsApp, citizen developers are more than afforded the chance to build communication channels as reliable and vibrant as those that exist today.
If you want to build an exclusive messaging app for select organization members or friends and family, this is the template you want to explore.
Freelancers and service-based entrepreneurs, rejoice! This is the template for you. Because this pick allows customers and clients to input unique answers, you're better able to determine what projects your prospects will need help with.
While this template obviously isn't exclusive to professionals who provide various services for clients, this pick is the best Bubble template you can use should you want to build an app that sources answers and data from others.
There's nothing quite like a tailor-fit work app that allows professionals to be as efficient as they possibly can, and Bubble's EZ Task Manager exists to do just that. Regardless if you work with a team or by your lonesome, task manager apps are superb solutions for keeping track of your progress.
If you want to build a program that fosters productivity, this template is what you should go for first.
You don't have to dream of building the next Spotify to develop a playlist app. As a matter of fact, Bubble's Music Library template should help you explore how a program like this is made. From podcasts to fresh tracks, seamlessly create with Bubble riveting apps that make music experiences a lot more enjoyable.
If you want to learn how streaming apps are built, this one's a good pick to start with.
Do you feel like you have a lot to teach? Build a learning platform with Bubble's Online Courses template. Designed to help creative leaders conveniently reach out to their audience, this pick makes it easier for anyone with a message to share with their target market.
If you're thinking of commodifying valuable skill sets through a paid online classes, this template is the one for you.
Sometimes, all you really need is one juicy landing page to thoroughly explain what your business is about. Perfect for entrepreneurs and brands with a robust social media presence, this template lets enterprises create straightforward landing pages with a bang.
If you want to explore the digital space by establishing your business' very own haven, this find is for you.
It's time to build
Overall, there's never been a more opportune time to develop web and mobile apps.
With no-code platforms like Bubble, we're now afforded the opportunity to be as inventive and compelling as possible with our ideas. It also helps how very direct Bubble templates are. From simple one-page forms to complex project management applications, visual programming technology has democratized the app development segment.
We all have ideas; all that's left is to build them! Check out our free courses that will help you get started.
Need help bringing your app idea to life with a Bubble template? Let's have a chat and get you started on your journey today!
Already have an app or building it yourself?    Get personalized Bubble support with BubbleHelpers.com!